Easter Saturday and the day was a brilliant autumn day here in Melbourne. Hardly any wind, only a few clouds in the sky and temperatures around the mid 20's (77F) So I jumped on the bike and decided to do my local loop. I took my camera to take a few shots.
It's a shitty camera and I'm a shitty photographer. But here goes.
(Click any of the images for a larger one if you like)
Here are some signs:
This one means QANTAS jets might fall on you for the next 2km. If you look carefully you'll see it's been introduced to Mr 22 by some dill.

Here's one:

This one means watch out for Dropbears. http://en.wikipedia.org/wiki/Drop_Bear

Wombats, moving speed humps. Hit one on your bike and it wont do much damage to it, but the cartwheeling from the endo will. In this area, the really nasty vampire wombats lurk.

Some of our CFA depots have trucks modelled off this vintage one in the sign 🙁

No chance of frost today.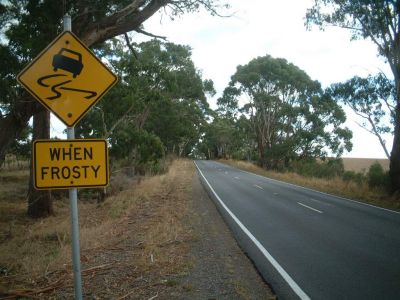 You'll find these at the entrance to every town.

Steep decent and some of the scenery.

You follow a horse float and it's full of "Caution" Horses, follow a dog trailer and it's full of "Caution" Dogs, on our roads, we have "Caution" Cyclists.

My route took me from home (Bacchus Marsh) to Balliang, Anakie then to Ballan. Myrniong, Greendale, Blackwood, Trentham, Woodend, Mt Macedon, Gisborne and back home. About 270km (~170 miles) in all. It's a nice ride.
Balliang, nothing here except a Church and Fire Brigade.

From Balliang to Anakie. They couldn't spell Anarchy so they called it Anakie. It's where the local Yamaha riders meet every weekend.

By now all the Yamaha boys are riding with erections. (That's 300 metres for the imperialists).

This weekend's meet must have been cancelled. I hightailed it out of there quick smart in case I got put on some list. A suspect 43yo single male alone in the carpark of the Fairy park with a camera and boiled lollies in his pocket.

I didn't take any pics in Ballan, I by-passed it incase I fell asleep on the bike, next town was Myrniong.
They have a nice Avenue of Honour and memorial wall for the town's fallen.

The Myniong Hotel (Plough Inn)

From there to Greendale, nothing in Greendale except the Hotel / General Store.

Greendale to Blackwood.
If Gav wants to get a bike license when he's older, I think I'll give the road away and buy a couple of road/trail bikes. We have so much off road to explore in our area. Brisbane ranges behind us, Wombat to the side of us and the Lerderderg in front of us.

Here's the Blackwood Hotel.

Blackwood is a bit bigger than Greendale, and it's more modern too. They have those new horseless carriage things. The owner actually drove it into town to pick up some supplies for his Bed and Breakfast – he's just out of shot with his groceries waiting for me to take the pic.

From Blackwood it's on to Trentham, but you have to pass through Newbury 1st. If this sign didn't exist, you wouldn't know Newbury did. There's about 6 houses. No pub.

Trentham is a reasonable size. Has most things you'd want in a small town. Here's the Trentham Hotel.

Trentham onto Woodend.
But you go via Tyden, not much in Tylden, no pub, but they have a bottle shop for grog. It's a general store, post office, bottle shop and service staion. Everything you could need including both beers, Fosters and Vic Bitter.

Woodend is a fairly large hub. Several pubs, but I didn't take a pic of one.
Here's the old post office, I don't know where the current one is.

Here's a bit of a shot of one side of their Main Street.

From Woodend to Mt Macedon.
Mt Macedon (The story behind the memorial cross is interesting)

Uphill to the peak.

I couldn't be bothered parking and walking to the lookout so I pinched some pics from the net.
Memorial Cross

The lookout with distances to other towns.

From the turn off you can roll 6km+ in neutral having to hit the brakes every so often to keep under the speed limit. Here's the Mt Macedon Hotel.

From Macedon to Gisborne. Gisborne is a faily large town and has freeway access to the City.
Here's the Telegraph hotel in Gisborne (There's several pubs in this town).

A bit of a shot of the Main Street.

From Gisborne to home, but Bullengarook is on the way, nothing here except a tiny school and a fire station.

It's so dry and barren around here, we need some rain 🙁
My crappy camera and some haze makes it impossible to see in this shot, but you can normally see the taller buildings of the Melbourne CBD on the horizon on a good day on this overpass just out of my town – Roughly 70km out I'd say.

1 Comment to An Easter Saturday Local Loop
YO, you still ride? and have this bike?
I found your website because I needed workplace manuals, wich I got now.

But these rides plus pics are awesome. I see its 2008 so you're probably eaten by wombats.
If not, make more of these pls, it looks great.

I have the same bike in black and blue/white colors, since 2007.

Ive been to Australia for 5 months in 2015, but I should have brought my bike with me:(

Great roads and scenery

John on March 29th, 2017
Leave a comment
Welcome to my blog
"I spent most of my money on Scotch, women and cigarettes. The rest I just wasted"
Archives
Recent Comments
Recent Posts:
My personal links
Hit Counter

Hit counter by Digits.net